Wasauksing First Nation continues to adapt programs and services to protect the Health and Safety of community members, staff, and students during the COVID-19 pandemic. Essential Service provisions have been put in place to help maintain continued support where necessary.
VIDEO: Pandemic Anniversary Memorial Ceremony- March 11th, 2021 Wasauksing Honours Families, Friends and Relations.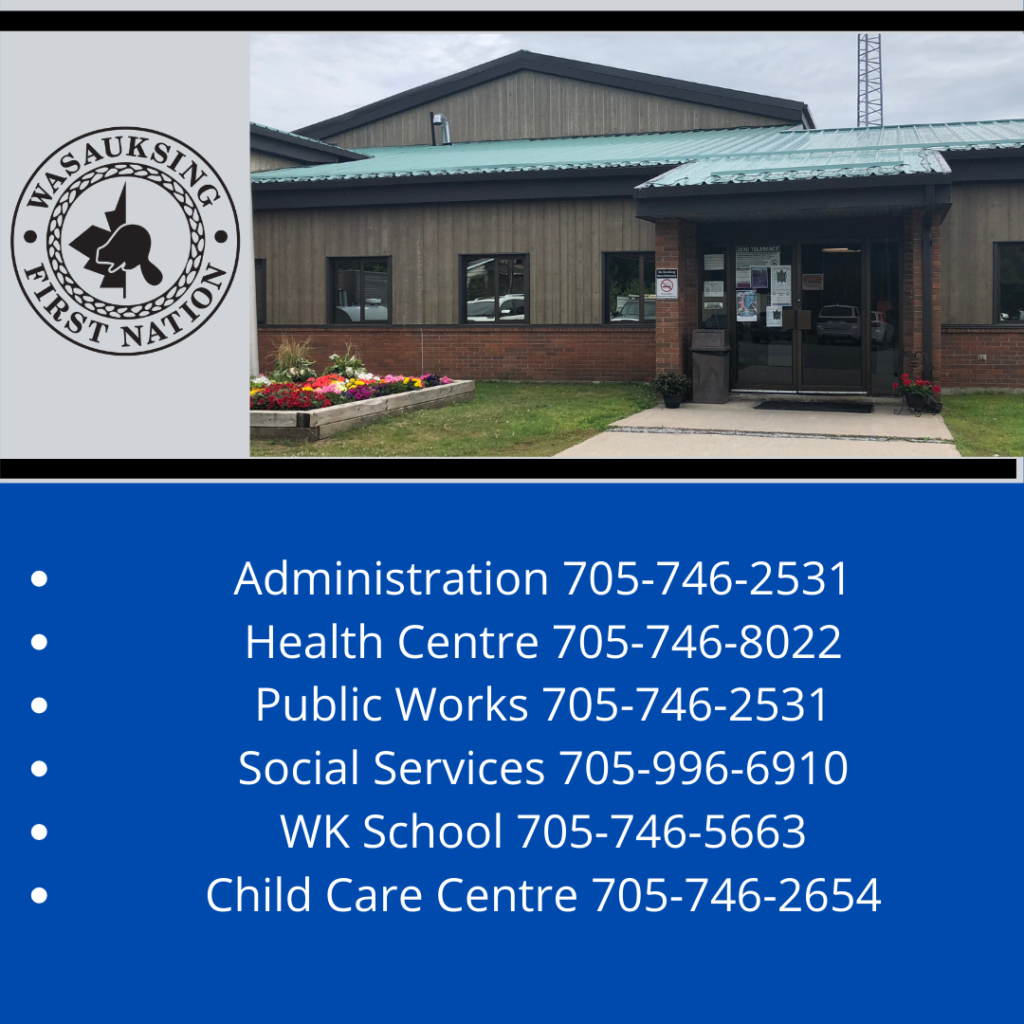 Wasauksing Building Protocols
Upon arriving, please remember to wear a mask which covers you mouth and nose.
Sanitize hands.
Covid-19 Screening Forms and temperature check will be required.
Maintain physical distancing of 2 metres apart.
If you are feeling unwell- please delay your visit and reschedule your appointment. If you answer "yes" to any of the questions on the screening form- do not enter the building. Contact the Health Centre 705-746-8022 or Telehealth Ontario 1-866-797-0000 to discuss further steps.
Wasauksing Chief and Council and Management continue to meet regularly to evaluate community response and coordinate services. Plans will adapt as necessary.
---
Provincial Guidelines
To Report a Non- Compliance to the Emergency Response Orders in place contact: Aboriginal Police Services (APS) Call Centre at 1-888-310-1122
Miigwech to everyone for your patience and diligence during this unprecedented circumstance.
Wasauksing State of Emergency
Emergency Response Orders
Wasauksing Emergency Response Team Contact Information
Safety Check Point Tag System Information
Emergency Response Law
Chief and Council Messaging
Chief and Council 2021 Covid Response Plan – March 16th, 2021
Chief and Council Responds to Covid-19– March 18th, 2020
Chief and Council Message Update -April 8th, 2020
Chief and Council Message Update– April 17th, 2020.
Chief and Council Message Update – April 24th 2020
Chief and Council Message Update – May 1, 2020
Chief and Council Message Update – May 15th, 2020
Chief and Council Message – May 29th, 2020
Chief and Council Message– June 5, 2020
Video: Chief Tabobondung- Update to the Community
Video: Chief Tabobondung – Stay Home, Stay Safe- April 8th, 2020
Video: Chief Tabobondung- Update to the Community- April 17th, 2020
Video: Chief Tabobondung- Update to the Community- April 25th, 2020
Video: Chief Tabobondung- Update to the Community- May 16th, 2020
Video: Chief Tabobondung- update to the Community- May 23rd, 2020
Video: Chief Tabobondung- Update to the Community- Sept. 26th, 2020
Video: Chief Tabobondung- Update to the Community- Oct. 2, 2020
Wasauksing Health Department
Health Notice #1– March 19th, 2020
Video: Health Director Update- April 27th, 2020
Hand Washing Demonstration– Stephanie Firsch, WFN Nurse Practitioner
Social Service Department
Social Services Response to Covid-19– March 25th, 2020
Education Department Update– April 8th, 2020
Education Department Update – April 24th 2020
M'tigo Min Trust Community Update Notice – April 8th, 2020